Who we are
GRANALIX is a Biotechnology Start-Up Company, founded by Professor Ruth Gabizon – senior researcher from the Department of Neurology at Hadassah University Hospital, Jerusalem – together with Professor Shlomo Magdassi, an international expert in the field of Nanotechnology from the Casali Center, Institute of Chemistry, at the Hebrew University of Jerusalem.
Ingredients And Production
Omega-5 and Nanotechnology
The oil contains one main fatty acid – Punicic Acid – Omega 5. This is a polyunsaturated fatty acid comprising 18 carbons with three conjugated double bonds, which make it one of the most potent antioxidants in nature. Oxidation of one double bond makes the punicic acid an isomer of linoleic acid, proposed in various scientific papers as having many qualities.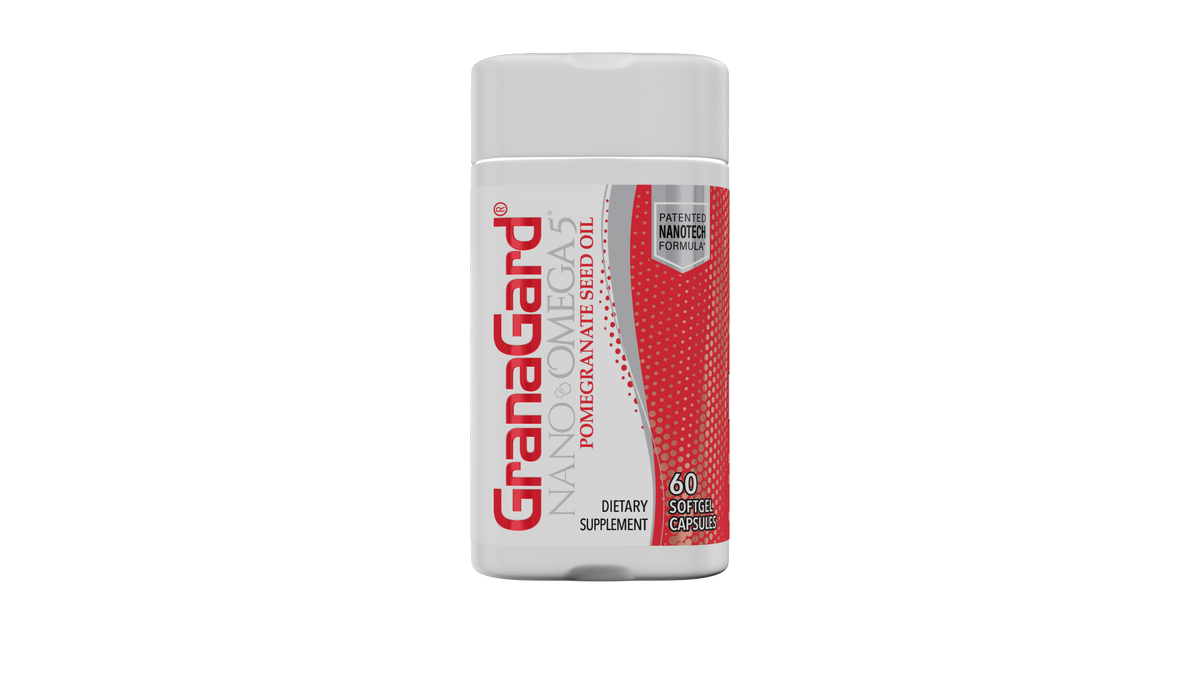 Production process of the pomegranate seed oil
Pomegranate seed oil is cold-pressed and does not undergo extraction in organic solvents hence, all of the oil's components are preserved in excellent quality.
Suggested Dosage
It is recommended to take two capsules together, every morning. The use of capsules should continue on a permanent basis.
Inside The Capsule
Pomegranate Seed Oil 125 mg, Emulsifiers E-494, E-433, Ethanol 2%, Filler (Glycerine), Fish Gelatin (Tilapia), Iron oxide color.
Total capsule weight is 650 mg., with a caloric value of less than 3 calories.
All ingredients were found to be safe for use, and approved for the food industry by the U.S. FDA at even higher concentrations than those found in the capsules.
Safety
Pomegranate  seed oil and punicic acid are natural substances and are not considered to be toxic materials. The oil itself is used worldwide and is considered safe and even healthy.
No mitogenic activity or liver enzyme activity change was found in concentrations of 2 grams. The LD50 value is over 5 gms/kg body weight, according to OECD countries' indices. Therefore, pomegranate oil is considered to be safe, without any consumption limits.
Where is GranaGard manufactured?
GranaGard is manufactured exclusively for GRANALIX by Ambrosia-SupHerb, Israel's leading manufacturer of advanced nutritional supplements.
Tests and standards
Our products are developed and tested both in Professor Ruth Gabizon's laboratory at Hadassah Ein Kerem Hospital in Jerusalem and in the laboratory of Prof. Shlomo Magdassi at the Hebrew University of Jerusalem. Commercial production is carried out under the supervision of the SupHerb factory, which meets all the strictest requirements set by the Ministry of Health Israel. Our products are the result of groundbreaking research and innovation in scientific study, and in compliance with stringent industrial control standards.
Is GranaGard safe to use?
Product Safety
Each of the components we use to manufacture GRANALIX products, is FDA-approved (and appears in the GRAS designation – Generally Recognized as Safe) and is suitable for human consumption. We use only natural active ingredients which are safe and healthy. We also meet OECD guidelines to ensure that our products are safe.

Third-Party Safety Checks
The safety of the product for human consumption is our primary concern. We test the product to ensure it retains its characteristics and, therefore, we use the services of independent laboratories which are considered to be leaders in Israel in product quality testing.

Testing Vendor Products
We purchase raw materials from suppliers who meet the most stringent criteria and standards, in order to provide the highest quality product.

Standards
The manufacturing factory Supherb withholds the highest standards and certificates regarding control standards, quality and food safety:

ISO: 9001 – International Standard detailing the requirements for Quality Management Systems.

ISO: 22000 – International Standard detailing the requirements for Food Safety Management Systems.

G.M.P. (Good Manufacturing Practice) – The Ministry of Health's (Israel) permit to mark the company's products as having been produced in accordance with "adequate manufacturing conditions".

HACCP: Food Safety Systems Management Standard that defines adequate manufacturing conditions in the food industry, to ensure strict compliance with quality management requirements.

GranaGard KOSHER Certificate
All of our products are supervised from start to finish of production, to ensure that our ingredients remain 100% Kosher. The inspection and approval process is carried out at the production factory under the supervision of the Chief Rabbinate of the Nof HaGalil (Nazareth Illit). Granagard Kosher Certificate: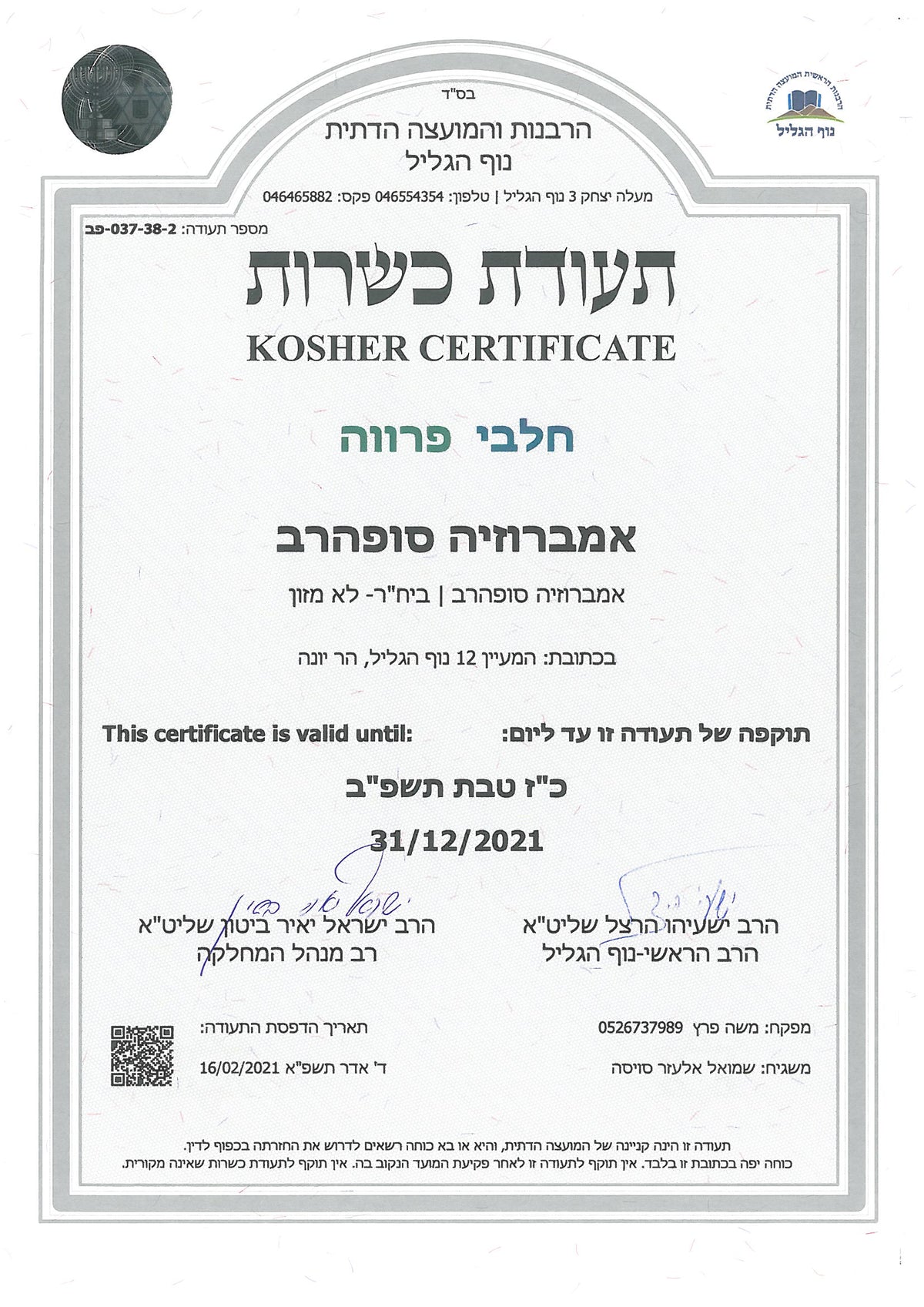 Inquiries
For any questions you can contact us here.
Shipping
It usually takes 1-3 business days to process your order.

As soon as your order is shipped, you will receive a text message with a tracking number and a link to track the shipment.

Shipping usually takes between 3-7 business days.

General
Keep away from reach of children.
Pregnant or nursing women, children and people on prescription drugs must consult their physician before use.
This package contains desiccant. Store product in a cool and dry place, away from heat, sunlight, and moisture.