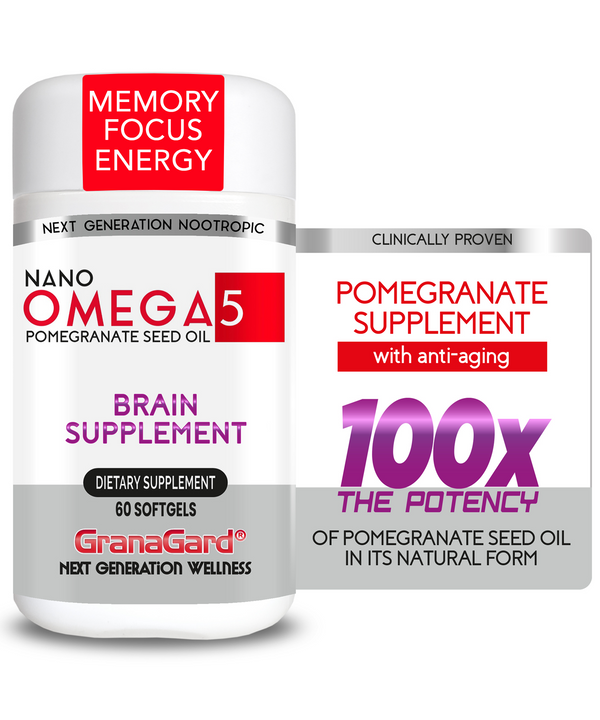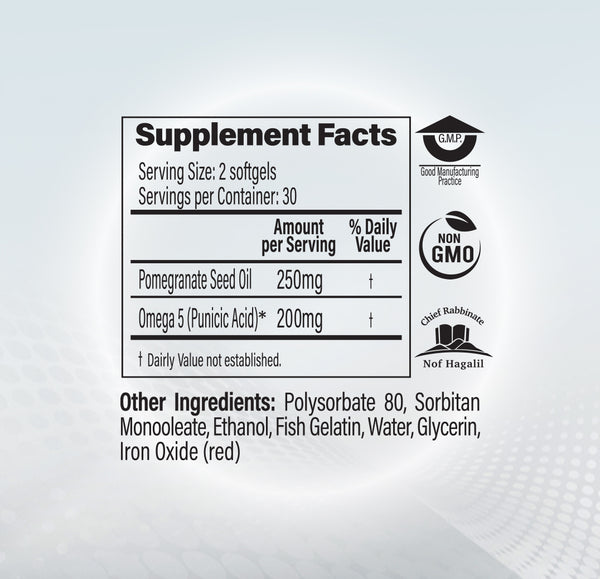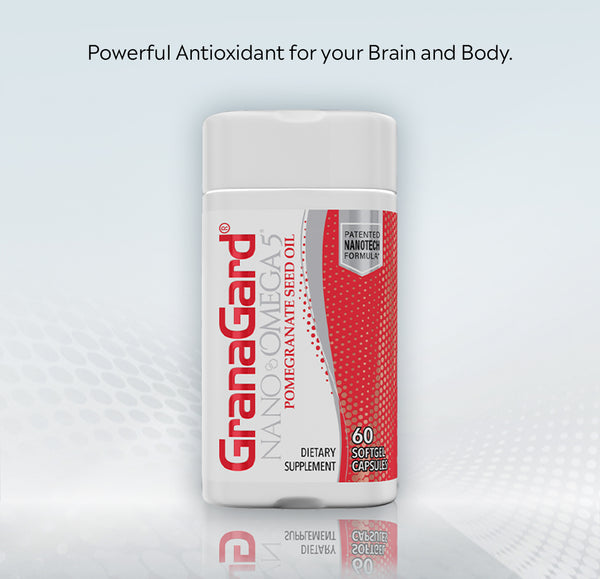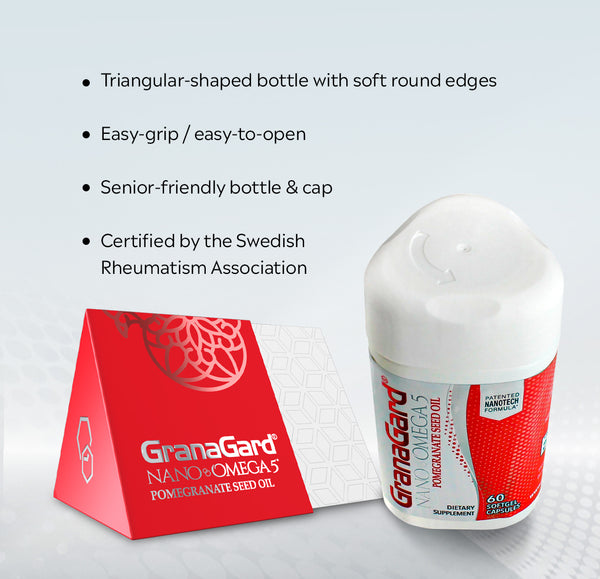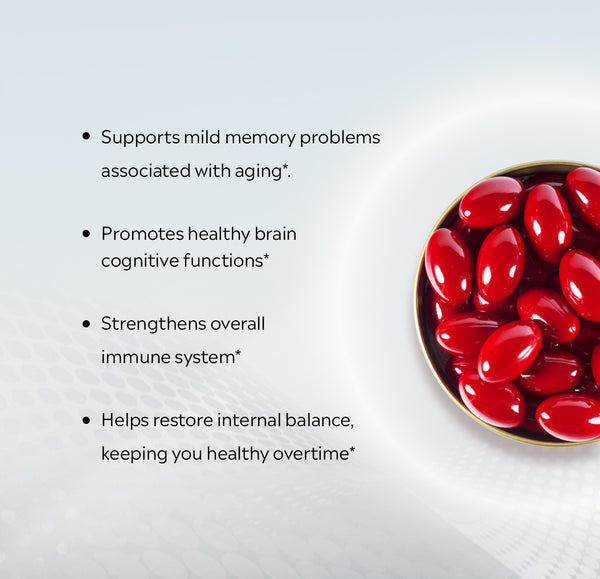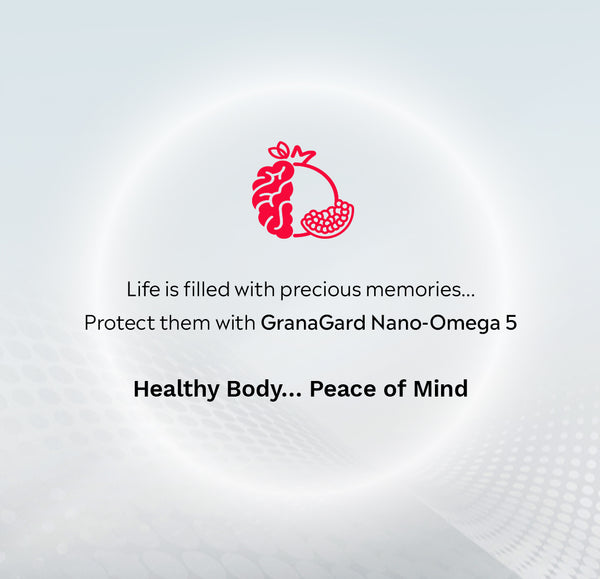 Clinically Proven Brain Supplement for Memory, Focus, and Alertness, with Anti-Aging effects | Omega 5 Nootropic with Nanotechnology | 1 month Supply
𝟮-𝗶𝗻-𝟭 𝗠𝗘𝗠𝗢𝗥𝗬, 𝗙𝗢𝗖𝗨𝗦, 𝗔𝗟𝗘𝗥𝗧𝗡𝗘𝗦𝗦 𝗪𝗜𝗧𝗛 𝗔𝗡𝗧𝗜-𝗔𝗚𝗜𝗡𝗚:

Clinically proven cognitive enhancements meet holistic anti-aging benefits. GranaGard's Omega 5 stands as the superior brain, energy and anti-aging alternative to berberine, cat's claw, ashwagandha, sea moss, bacopa, nr, lions mane, coq10, resveratrol, and moringa. Experience next generation wellness with GranaGard's potent antioxidant and its patented nanotechnology that makes oil soluble in water, hence reaching all organs in your body.

𝗖𝗟𝗜𝗡𝗜𝗖𝗔𝗟 𝗘𝗫𝗖𝗘𝗟𝗟𝗘𝗡𝗖𝗘 & 𝗣𝗥𝗢𝗩𝗘𝗡 𝗥𝗘𝗦𝗨𝗟𝗧𝗦:

GranaGard's Omega 5 and its nano formulation are clinically tested to help elevate cognitive functions, as attested by published research from top-tier journals like Stem Cell Research and Therapy (2022) as well as Molecules (2022). GranaGard's pomegranate supplements are lab tested, naturally sourced, FDA GRAS (Generally Accepted as Safe) next-gen supplements.

𝗣𝗜𝗢𝗡𝗘𝗘𝗥𝗜𝗡𝗚 𝗛𝗘𝗔𝗟𝗧𝗛𝗬 𝗔𝗚𝗜𝗡𝗚:

GranaGard's pomegranate seed oil helps promote memory, focus, and alertness with a holistic approach to aging. Ideal for body detox, immune support, brain booster, energy, and brain fog. Age gracefully with GranaGard's Omega 5, a groundbreaking antioxidant formula from the amazing super-nutritent, pomegranate.

𝗡𝗔𝗡𝗢𝗧𝗘𝗖𝗛𝗡𝗢𝗟𝗢𝗚𝗬: 𝗧𝗛𝗘 𝗙𝗨𝗧𝗨𝗥𝗘 𝗢𝗙 𝗪𝗘𝗟𝗟𝗡𝗘𝗦𝗦:

Move beyond conventional pills and softgels. GranaGard and Omega 5 harness the power of nanotechnology, ensuring that pomegranate seed oil (one of nature's most potent antioxidant), becomes soluble in water. GranaGard's nanotechnology delivers a nano-emulsion that reaches organs that are behind blood-aqueous barriers like brain, eyes, testes and the inner-ear.

𝗔 𝗟𝗘𝗔𝗚𝗨𝗘 𝗢𝗙 𝗜𝗧𝗦 𝗢𝗪𝗡:

GranaGard's supplements are backed by years of clinical research of a multi-disciplinary science team, including global leaders in neuroscience. Our mission? To deliver cutting-edge, clinically proven anti-aging and energy-boosting supplements for the entire body.
Details
Introducing a breakthrough product, developed in Israel by Granalix, a Bio-Technology Company partnered with HADASSA Ein Kerem Hospital and YISUM at the Hebrew University of Jerusalem.
GranaGard "Nano-Omega 5" is a powerful naturally sourced antioxidant from Pomegranate Seed Oil with proven efficacy in supporting

 brain and body functions.

Innovative US Patented Nano-Self Emulsion-Technology which allows for maximum absorption and increasing bioavailability of active Ingredient to the different body tissues,including the brain.

GranaGard capsules form nano drops of oil in the stomach which, due to their tiny size (200 nanometers- in accordance with FDA and EFSA regulations), are easily absorbed into the digestive tract and bloodstream. The active ingredient in the oil (PUNICIC ACID) then reaches the desired targets in the body serving as a powerful and highly effective antioxidant and cell protector.
Ingredients & Quality
100% Pomegranate Seed Oil (POS), extracted through a unique cold-press production process. Does not undergo extraction in organic solvents, hence components are preserved in top quality.

POS contains high concentrations of Punicic Acid (PA), a Poly-Unsaturated Fatty Acid, one of the strongest antioxidants in nature.

Punicic Acid has shown to convert in-vivo into CLA (Conjugated Linoleic Acid), an active antioxidant and well-established neuro-protector.

100% GRAS (Generally Regarded As Safe) on all components selected from FDA GRAS list.

Formulated in Israel at the leading manufacturer of advanced nutritional supplements meeting the strictest norms set by the Ministry of Health including ISO 9001; ISO 22000, G.M.P (Good Manufacturing Practices); meets facility guidelines according to HACCP (Hazard Analysis Critical Control Point) and OECD (Organization for Economic Cooperation and Development) .

Kosher-Parve Certified, Non-GMO and Gluten-FREE Ingredients. Does not contain dairy, eggs, crustacean shellfish, tree nuts, peanuts, wheat or soybeans. Contains fish (tilapia)
Safe enough for long-term daily consumption in most individuals.  See
nutrition label
for more information.
Recommended Use
Formulated as a Dietary Supplement on easy-to-swallow-soft capsules. Each bottle contains a 30-day supply. 

It is recommended  to take two (2) capsules once daily in the morning, with or without food.

Taking the capsules should be done long term on a regular basis in order to maintain its biological effects. 

Capsule weight is 650mg, with less than 3 calories per capsule.

All ingredients were found to be safe for use and are FDA approved for the food industry. The quantity of oil in the recommended dosage is 1000 times less than the OECD standard.

Women that are pregnant or nursing, people on prescription drugs and children should consult with a physician.

Keep away from reach of children.

GranaGard does not substitute or claims to substitute any medication administered to patients.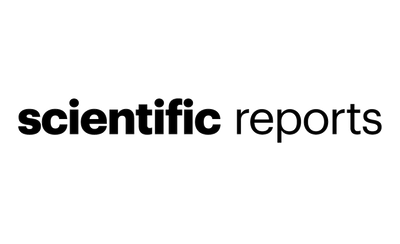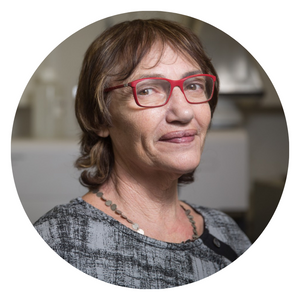 Professor Ruth Gabizon
Prof. Ruth Gabizon is a researcher at Hadassah University Hospital in Jerusalem.  Prof. Gabizon completed a postdoctoral fellowship at the University of California at San Francisco with Prof. Stanley Prusiner. Prof. Stanley is an American neurologist and biochemist who discovered prions – a class of infectious self-reproducing pathogens primarily or solely composed of protein – for which he received the Nobel Prize in Physiology or Medicine in 1997. She returned to Israel in 1988 and continued her research at Hadassah University Hospital.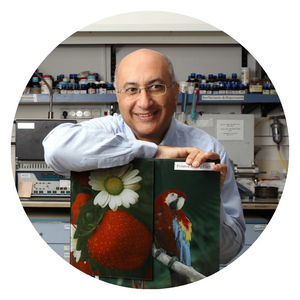 Professor Shlomo Magdassi
Shlomo Magdassi is a Professor of Chemistry, at the Casali Center for Applied Chemistry, the Institute of Chemistry and the Center for Nanoscience and Nanotechnology at the Hebrew University of Jerusalem, Israel. The research group headed by Prof. S. Magdassi focuses on materials science and nanotechnology. Professor Magdassi has over 220 published academic articles and several ground-breaking inventions. He is considered a world expert in the field of nanomaterials creation and application.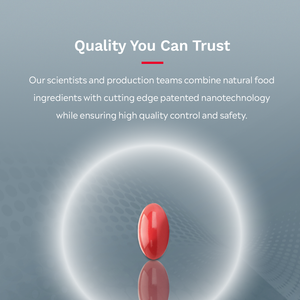 Who we are
GRANALIX is a Biotechnology Start-Up Company, founded by Professor Ruth Gabizon – senior researcher from the Department of Neurology at Hadassah University Hospital, Jerusalem – together with Professor Shlomo Magdassi, an international expert in the field of Nanotechnology from the Casali Center, Institute of Chemistry, at the Hebrew University of Jerusalem.
Ingredients And Production
Omega-5 and Nanotechnology
The oil contains one main fatty acid – Punicic Acid – Omega 5. This is a polyunsaturated fatty acid comprising 18 carbons with three conjugated double bonds, which make it one of the most potent antioxidants in nature. Oxidation of one double bond makes the punicic acid an isomer of linoleic acid, proposed in various scientific papers as having many qualities.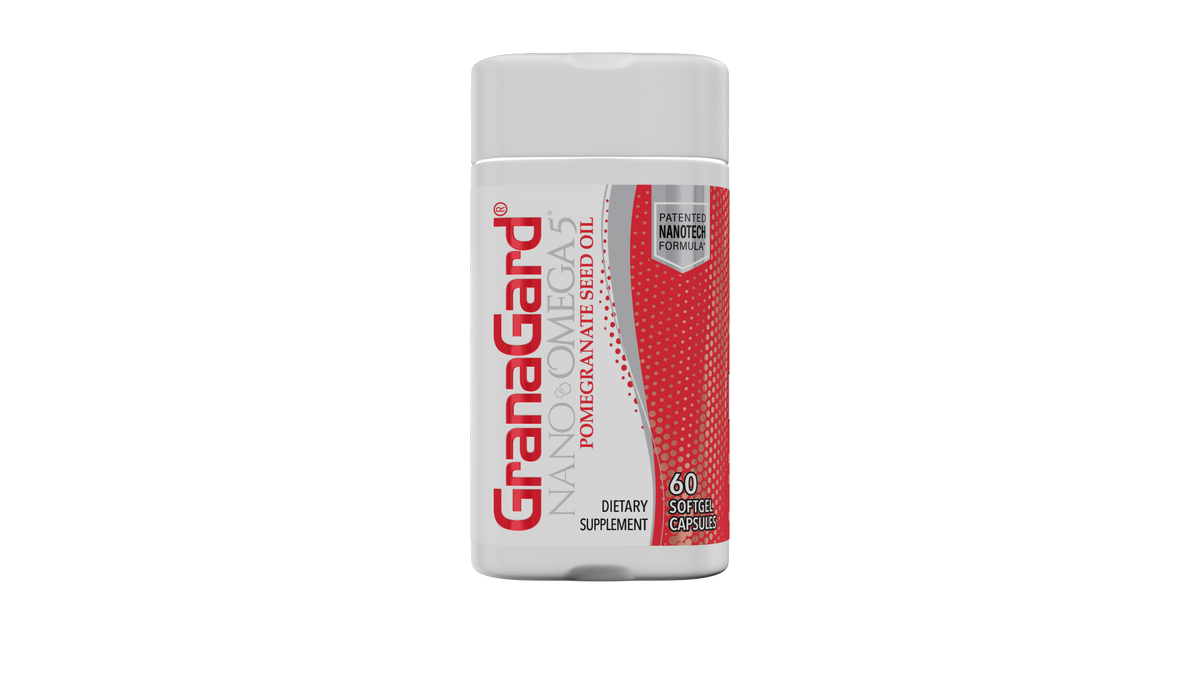 Production process of the pomegranate seed oil
Pomegranate seed oil is cold-pressed and does not undergo extraction in organic solvents hence, all of the oil's components are preserved in excellent quality.
Suggested Dosage
It is recommended to take two capsules together, every morning. The use of capsules should continue on a permanent basis.
Inside The Capsule
Pomegranate Seed Oil 125 mg, Emulsifiers E-494, E-433, Ethanol 2%, Filler (Glycerine), Fish Gelatin (Tilapia), Iron oxide color.
Total capsule weight is 650 mg., with a caloric value of less than 3 calories.
All ingredients were found to be safe for use, and approved for the food industry by the U.S. FDA at even higher concentrations than those found in the capsules.
Safety
Pomegranate  seed oil and punicic acid are natural substances and are not considered to be toxic materials. The oil itself is used worldwide and is considered safe and even healthy.
No mitogenic activity or liver enzyme activity change was found in concentrations of 2 grams. The LD50 value is over 5 gms/kg body weight, according to OECD countries' indices. Therefore, pomegranate oil is considered to be safe, without any consumption limits.
Where is GranaGard manufactured?
GranaGard is manufactured exclusively for GRANALIX by Ambrosia-SupHerb, Israel's leading manufacturer of advanced nutritional supplements.
Tests and standards
Our products are developed and tested both in Professor Ruth Gabizon's laboratory at Hadassah Ein Kerem Hospital in Jerusalem and in the laboratory of Prof. Shlomo Magdassi at the Hebrew University of Jerusalem. Commercial production is carried out under the supervision of the SupHerb factory, which meets all the strictest requirements set by the Ministry of Health Israel. Our products are the result of groundbreaking research and innovation in scientific study, and in compliance with stringent industrial control standards.
Is GranaGard safe to use?
Product Safety
Each of the components we use to manufacture GRANALIX products, is FDA-approved (and appears in the GRAS designation – Generally Recognized as Safe) and is suitable for human consumption. We use only natural active ingredients which are safe and healthy. We also meet OECD guidelines to ensure that our products are safe.

Third-Party Safety Checks
The safety of the product for human consumption is our primary concern. We test the product to ensure it retains its characteristics and, therefore, we use the services of independent laboratories which are considered to be leaders in Israel in product quality testing.

Testing Vendor Products
We purchase raw materials from suppliers who meet the most stringent criteria and standards, in order to provide the highest quality product.

Standards
The manufacturing factory Supherb withholds the highest standards and certificates regarding control standards, quality and food safety:

ISO: 9001 – International Standard detailing the requirements for Quality Management Systems.

ISO: 22000 – International Standard detailing the requirements for Food Safety Management Systems.

G.M.P. (Good Manufacturing Practice) – The Ministry of Health's (Israel) permit to mark the company's products as having been produced in accordance with "adequate manufacturing conditions".

HACCP: Food Safety Systems Management Standard that defines adequate manufacturing conditions in the food industry, to ensure strict compliance with quality management requirements.

GranaGard KOSHER Certificate
All of our products are supervised from start to finish of production, to ensure that our ingredients remain 100% Kosher. The inspection and approval process is carried out at the production factory under the supervision of the Chief Rabbinate of the Nof HaGalil (Nazareth Illit). Granagard Kosher Certificate: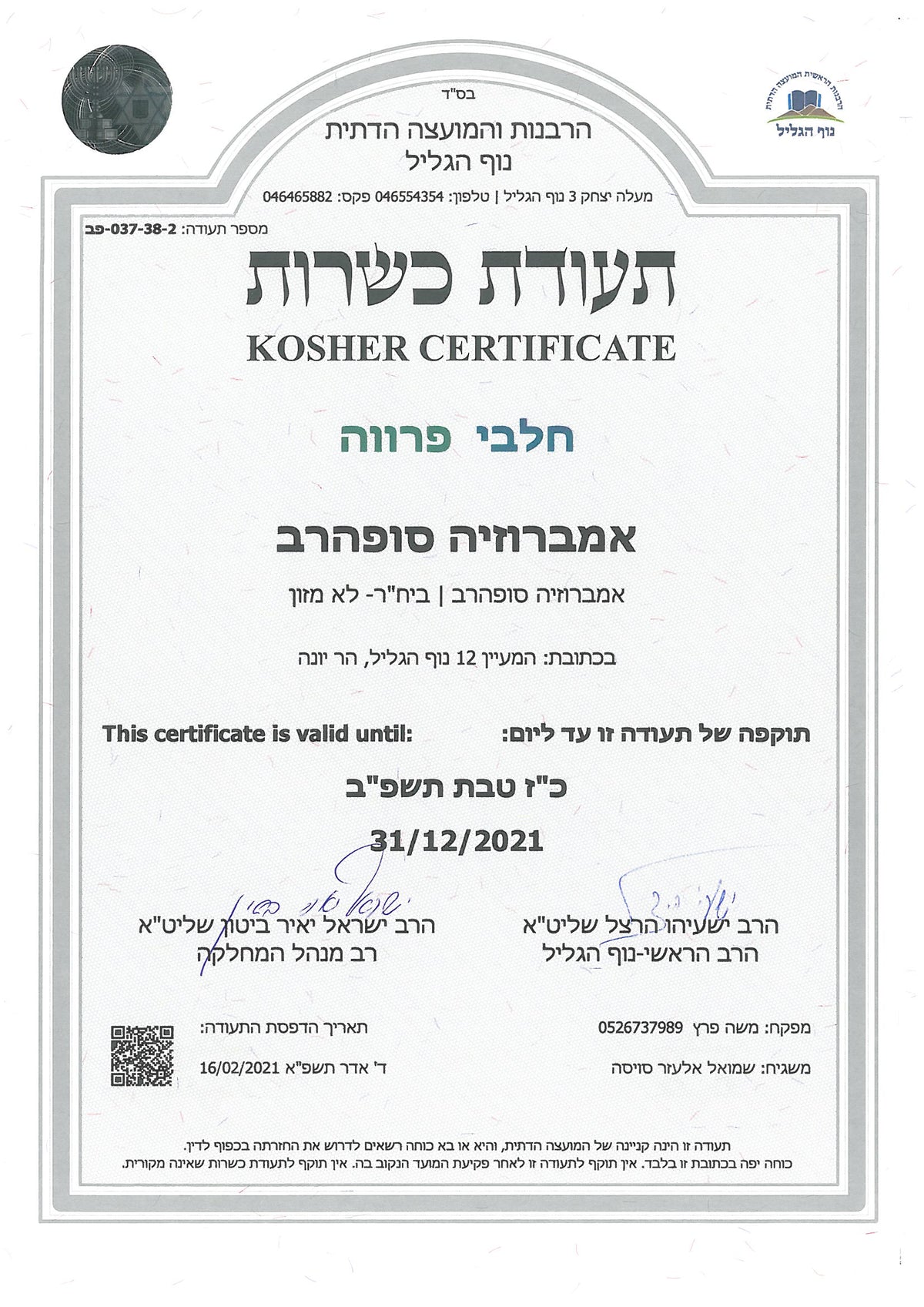 Inquiries
For any questions you can contact us here.
Shipping
It usually takes 1-3 business days to process your order.

As soon as your order is shipped, you will receive a text message with a tracking number and a link to track the shipment.

Shipping usually takes between 3-7 business days.

General
Keep away from reach of children.
Pregnant or nursing women, children and people on prescription drugs must consult their physician before use.
This package contains desiccant. Store product in a cool and dry place, away from heat, sunlight, and moisture.